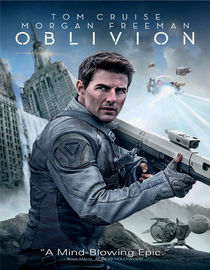 Oblivion
2013
NR
High above a war-torn future Earth, Cmdr. Jack Harper is maintaining the planet's defensive drones when a crippled starship enters his territory. Its sole occupant, a mysterious woman, leads Harper to shocking truths about humankind's legacy.
Cast:
My Review:
If

I Am Legend

, and Matrix had a son who always disappoints, I'd name him Oblivion.
Being a fan of Tom Cruise and sci-fi movies, I headed to Edwards Cinema with my hubby this Sunday night with high expectations, only to leave three hours later quite disappointed. While the visual effects were absolutely stunning, and watching Tom Cruise fly over the destroyed and deserted Earth twisted my heart with sadness, the rest of the movie's elements were dull. The build up to the final conclusion was way too long, filled with repetitive scenes (Tom Cruise flying, Tom Cruise fixing a droid, Tom Cruise talking to his wife, etc.), and even the climax fell short and was very predictable. Don't get me wrong; the plot was believable and interesting; only the execution was questionable. With no real villains or scary aliens to hate, I didn't feel inclined to root for anybody really. Nevertheless, Tom Cruise was outstanding as always, trying to bring the best out of the script, and Victoria was perfect as a android-like wife, while the spaceship survivor Julia was a bad replica of Kristin Stewart in Twilight (open mouth, trembling lips, mechanical facial expressions, etc.). Had Oblivion been made as a teen movie, or were it an hour shorter, I might not have been so disappointed. Even The Hunger Games had more action than Oblivion had, and that's not what you expect from a high budget sci-fi movie.